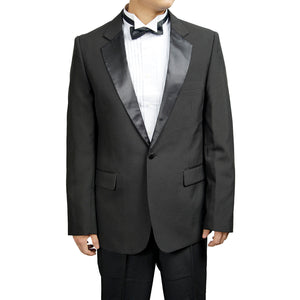 Where to Rent a Tuxedo in New York City? The Best NYC Tux Shop is Here
Are you looking to rent a tuxedo in New York City? At many places, you can be charged hundreds of dollars for a tuxedo that won't be tailored to you, and which you won't be able to keep. But at New Era Factory Outlet, we're dedicating to providing you with your own tuxedo at a reasonable price (which nearly always costs less than your standard, big-box suit store.)
A Variety of Tuxedo Options for You to Buy
You're unique, and your tuxedo should be unique too. That's why we offer a variety of tuxedo options. If you're looking for a one button, two button, shawl, velvet collar, or any style tuxedo in NYC, then we can help you out. In addition, we have black tuxedo jackets, and white tuxedo jackets, so for black-tie and white-tie events, you'll be well dressed for the occasion.
In addition, you'll be needing accessories, likely. If you're looking for a bow tie, vest, or tuxedo shoes, we'll be able to provide that for you to.
The Best Place to Get Your Tuxedo in NYC
When you're ready for your tux, come to 63 Orchard Street. At New Era Factory Outlet, we're happy to help get you suited up for your perfect event!
---